Join the EWSETA online for this informative session.
The Effect of COVID-19 on Skills Development and how EWSETA is Driving Digital Transformation
Date: Monday, 07 December 2020
Workshop Time: 12:35 – 13:35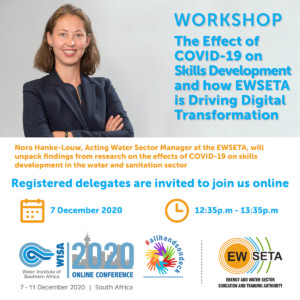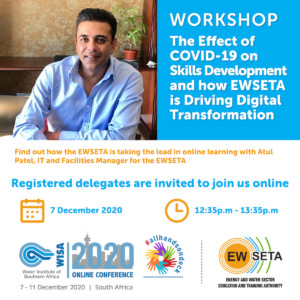 COVID-19 has disrupted all our lives. The lockdown and social distancing measures have had a massive impact on so many people and for learners this has proved detrimental to both their practical and theoretical learning. South Africans have been 'forced' into embracing and adapting to a digital way of doing things and this includes institutions of higher learning. Yet, inequality of access and connectivity, as well as capacity to teach and learn using online platforms varies widely across individuals and institutions. The EWSETA is placing emphasis on digital education and knowledge sharing. We are looking for innovative partners to join us on this journey.
The workshop aims to share EWSETA's sector research; conduct a quick poll to measure how COVID-19 has affected the sector; share how EWSETA plans to respond to the digital future of education; and to find partners in the digital education space.